How does the Affiliate Program work?
The affiliate program is a fully automatic and trackable system. Once you sign up, you will be given your affiliate tracking link and gain access to our promotional materials.
Every affiliate link is tracked in detail within our system. When someone clicks your link, banner or other promotional material, they will be directed to the Frozen Solutions website. If they make a purchase, you earn a commission on that purchase.
If the person visits the website and does not make a purchase initially, but comes back a week later and then DOES. You will STILL earn a commission on that person. Each individual is tracked and counts as your affiliate from their first visit.
Signing up is as easy as clicking the sign up link (or by clicking here), fill out the required information and you are on your way to earning some extra cash!
Payouts are done via PayPal for a quick and easy process.
For more details please visit the Affiliate Sign Up Page. We look forward to woking with you!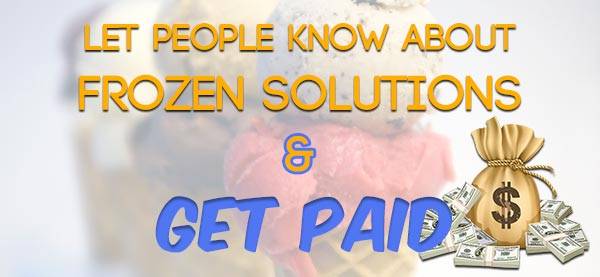 It's time to earn a little extra
There are many different ways to earn with the Frozen Solutions Affiliate program. Here are a few examples to help you make the most out of our partnership.
Create a blog post on your website about Frozen Solutions using your affiliate link

Add one of our pre-made affiliate banners to your site

Add your affiliate link to your Instagram or Facebook page

Place the QR code (located in the affiliate program) on any print material you might have

Give your clients, friends and anyone else that might need frozen treat supplies, your affiliate link